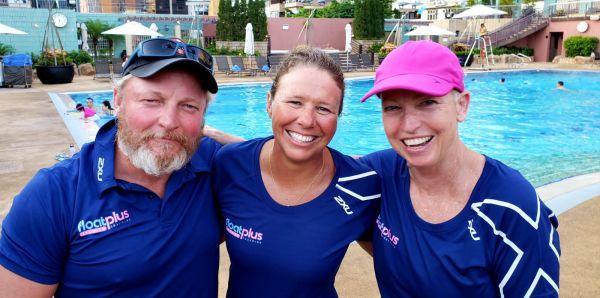 Our Story.
FloatPlus Swimming was formed in 2007 by Sandra Taylor, Karen Robertson, and Robin Bredbury as we recognised the need for a comprehensive and effective swimming programme for children and adults in Hong Kong, and Asia.
With over fifty combined years' worth of experience in the Hong Kong sports coaching industry, we are ably supported by a team of enthusiastic, highly qualified, personable and compassionate teaching staff.
Our Vision.
To instill a positive, safe, and lifelong relationship with swimming, the water, and water-based activities.
Our Mission.
We are committed to providing an effective swimming curriculum which creates consistent student skill acquisition in a nurturing environment, while ensuring the best possible experience for students, parents, and staff.
To build a community based on water, swimming, and other water-based activities.
To make swimming accessible to all.


What Makes Us Different.
We teach with a clear consistent instruction style combined with strong class organisation.
We use a logical and effective progression of swimming skills, water safety and survival skills.
We have qualified, experienced, and personable instructors, with empathetic behaviour-management skills.

We provide a safe environment with small class sizes, positive structure, and community awareness.

Best of all, we make all classes as fun and stress-free as possible.

Our Staff.
We endeavour to foster a company environment in which our teachers are respected, valued, listened to, and are part of the FloatPlus Swimming family.
Professional development is an essential aspect of the company, and we offer in-house training and external courses in order to further staff knowledge and to encourage continuous learning.
We are extremely proud of our young, talented, competent, and multi-lingual team!

Languages include: English, Cantonese, Mandarin, French, German
The FloatPlus Team include several international representatives in a variety of sports:
Olympic Games | Hong Kong Swimming representative
Commonwealth Games | Hong Kong Swimming representative
Hong Kong Rugby 7s+15s International representatives | Men's Team | Women's Team
Hong Kong Field Hockey International representatives | Men's Team | Women's Team
NZ Junior Badminton + Water Polo
Jersey to France Swim World Record Holder
Current HK Age-Group Triathlon